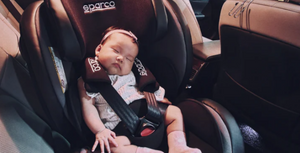 If you're just about to embark on this whole parenthood thing and have suddenly realised that you need a baby seat for your car, we have all that you need to know right here. Don't even think about just carrying a baby in your arms in a moving car. A child can be thrown forward with a sudden jerk, even at a slow speed. The force which acts on the child is many times that of his body weight. Not only is having an unrestrained baby or toddler in a vehicle extremely dangerous, it is also ILLEGAL in Singapore. - There...
---
Expecting a new family member's arrival? Congratulations!  Y​ou are all excited that your baby is arriving soon. But there will be moments where you feel overwhelming of not knowing what to do and how to care for you and your baby right. Not to worry too much, we are here to share some of our tips as parents.  - In each week of pregnancy, there are changes taking place in your body and your baby's development.  Early pregnancy symptoms include feeling tired, feeling bloated, peeing more than usual, mood swings, nausea, and tender or swollen breasts.  But it will pass and it will all be...
---
Breastfeeding difficulties that result in low supply which lead to a range of emotional responses.  Mummy guilt is a real thing. It's strong and it can hurt for a long time.  You're exhausted and beaten. There is no right or wrong way for you to feel about your breastfeeding experience.  No matter how you feel, please know: YOU ARE NOT ALONE. Before having their baby, many women make the assumption that breastfeeding will come easily and naturally. But sometimes things don't go to plan.  Insufficient milk supply is one of the most common reasons given for women not meeting their breastfeeding goals. You...
---
Wondering if you're producing enough breast milk? Breastfeeding can be stressful for new moms, especially if you're worried about producing enough breast milk to keep baby happy and healthy.  Unlike bottle-feeding, where you can tell exactly how much your baby is drinking, breastfeeding is "blind"; your breasts aren't see-through, so you can't know how much milk you have and how much your baby is taking. That may lead some new moms to wonder: Am I making enough breast milk?  Is my newborn getting enough to eat, or could I have a low milk supply?   It's not always clear what causes...
---
Leaking doesnt mean too much breast milk.  During the first four to six weeks after your baby is born, your levels of the milk-making hormone prolactin will be increasing each time milk is removed from your breasts. In these early weeks, your breasts are learning how much breast milk your baby needs and how much to make every hour. As a result, excessive leaking and breasts that fill quickly – and even spray milk during let down – are common and normal. It can take time to adjust. Some mums find that their milk supply settles down quickly, while for others...