Rosy Organic - Organic Rice Puffs Cheese / Strawberry / Chocolate / Apple Carrot / Sweet Potato / Pumpkin / Baby Snack
Regular price
$10.00
$0.00
Unit price
per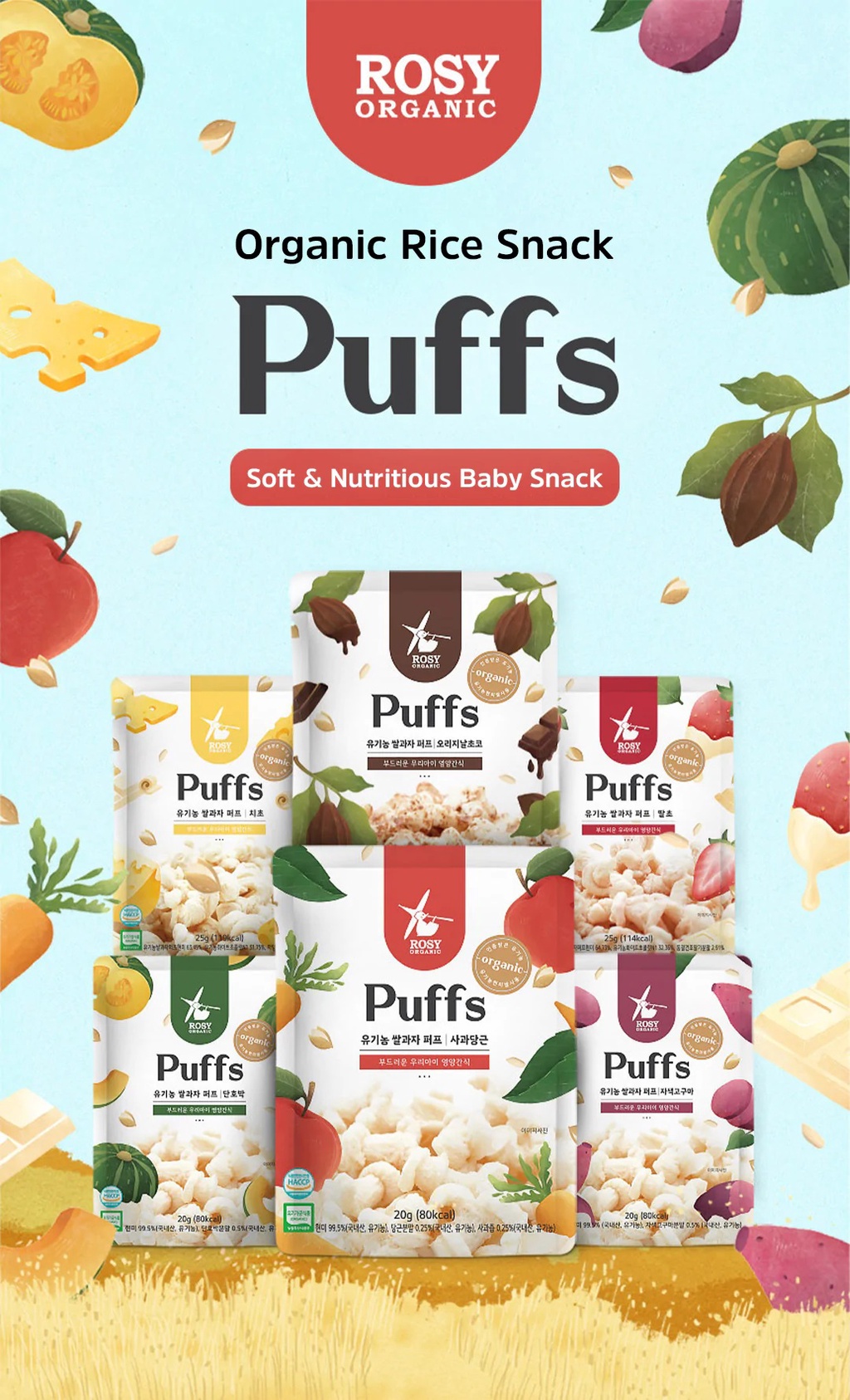 A safe & certified organic rice puff which is made with 99.5% Organic brown rice and 0.5% Organic vegetables!
Highly recommend as the very first snack for the babies! Less crumbs on baby's palm' 💯
✅ Suitable for vegetarian
✅ HACCP Certified
✅ Suitable for 12M+
✅ Made in Korea
Rosy organic runs a process for every batch to test for heavy metals (Arsenic, Lead, Mercury) to make sure there is NO traces found of such compounds.
Hence you can rest assured and let your little ones enjoy certified organic rice puff safely :)
Expiry Date:
Organic Puff (Organic Chocolate) - 2023-03-03
Organic Puff (Strawberry Choco) - 2023-03-02
Organic Puff (Cheese Choco) - 2023-03-01
Organic Puff (Apple + Carrot) - 2023-07-28
Organic Puff (Pumpkin) - 2023-07-07 / 2023-07-27
Organic Puff (Sweet Potato) - 2023-0707 / 2023-07-28
-
[
INGREDIENTS
]
Choco
- 100% Organic Brown Rice (Korea) 70%, Organic Dark Chocolate N1 [Organic Cocoa Mass (Netherlands) 47%, Organic Sugar 38.6%, Organic Cocoa Butter (Netherlands) 14%, Lecithin (Soy)] 15%, Organic White Chocolate N1 [Organic Sugar 39.02%, Organic Cocoa Butter (Netherlands) 35.71%, Organic Non-fat Dry Milk (USA) 24.88%, Lecithin (Soy)] 15%
-
Strawberry Choco - 100% Organic Brown Rice (Korea) 64.73%, Organic White Chocolate N1 [Organic Sugar 39.02%, Organic Cocoa Butter (Netherlands) 35.71%, Organic Non-fat Dry Milk (USA) 24.88%, Lecithin (Soy)] 32.36%, Freeze-dried Strawberry Powder (Korea) 2.91%
-
Cheese Choco - 100% Organic Brown Rice (Korea) 63.49%, Organic White Chocolate N1 [Organic Sugar 39.02%, Organic Cocoa Butter (Netherlands) 35.71%, Non-fat dry milk (USA) 24.88%, Lecithin (Soy)] 31.75%, Camembert Cheese Powder (Netherlands) 4.76%
-
Apple + Carrot - Brown Rice 99.5% (Korea, Organic), Carrot Powder 0.25% (Korea, Organic), Apple Juice 0.25% (Korea, Organic) 
-
Sweet Potato - Brown Rice 99.5% (Korea, Organic), Purple Sweet Potato Powder 0.5% (Korea, Organic)
-
Pumpkin - Brown Rice 99.5% (Korea, Organic), Sweet Pumpkin Powder 0.5% (Korea, Organic)
---
Share this Product
---